Pronghorn Antelope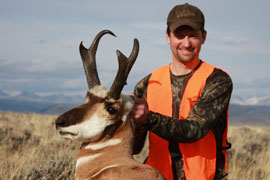 Our Antelope population continues to grow and has the potential to provide that Trophy Buck for you. We hunt both in the Western part of the state and in the North Eastern part of the state and have been enjoying 100% kill success rates on very good bucks. Some of the hunt specifics include:
Seasons generally run from Sept. 7 through mid-November
Lodging is provided at our Burnt Lake Drive-In Base Camp, or local motels/lodges depending on area drawn & Antelope movements
All meals are provided
Licenses are overall difficult to draw and do require preference points
Licenses in our North Eastern area are much easier to draw and we have been enjoying some left over license opportunities in July
4x4 vehicles, ground blinds are provided
This is a 3 hunter/guide hunt
We provide Archery as well as Firearm hunts with excellent success
4 Day Hunt: $2,500/hunter plus 4% tax
Click here to view more photos.