Cow Elk Hunting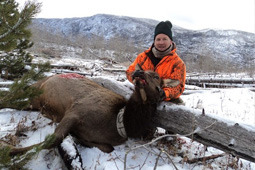 Our Elk Herd is in extremely good shape and as of this writing. If you participate in the January drawing, you will have a very good chance to draw the ½ price additional cow/calf license, area 97 type 6 for your elk hunt. If you don't draw in January or miss the drawing, we will have area 97 type 1 licenses available in July that can be used for that Cow Hunt. We will generally be hunting from either our Blacks Lake Base Camp or from the Burnt Lake drive in camp (depending on weather and elk movement) for this Cow Elk Hunt. The location of these camps adjacent to the Fall Creek Elk Feed Ground afford us unsurpassed opportunities to harvest that cow elk:
November 1 - 15 Available Hunt Dates
3 Days of Hunting, 4 Day Total
Fill your freezer & scout our Trophy Bull Elk Hunting area for the 2021 season
Deluxe Hunting Camp, all horses, pack out of your meat, 2 hunters per guide, and all Food provided
Economically priced at:

$2400/hunter plus 4% tax (1 Elk License)
$3500/hunter plus 4% tax (2 Elk Licenses)

Very high success rates
Click here to view more photos.