Elk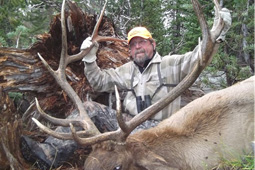 The Bridger Wilderness Area continues to produce some of the best Trophies and the highest Bull:Cow ratios in the state. We hunt nearly exclusively in the Bridger Wilderness and I can offer the advantage of three Deluxe Base Camps, high Wilderness spike camps or Day Use Hunting from the town of Pinedale. Our Base Camps are among the most deluxe and comfortable camps that you will experience. In addition, we have a Day Use Permit that we can utilize from our Elk Hart Park Pack Station when needed. " BURNT LAKE BASE CAMP: This is a drive in base camp complete with cabins on the shore of Burnt Lake and a wood Cook/dining cabin. We utilize this site as our Trailhead to the Wilderness and our other Base Camps. In addition, the camp site provides some ideal late season Elk hunting.
HORSESHOE LAKE BASE CAMP: This deluxe Wilderness Base Camp is located about 4 horse hours from our Burnt Lake Base, in the Bridger Wilderness. This ideal location allows us access to Elk, Mule Deer and Moose hunting during the early season and until we get snowed out of the high country. We are strategically located between two migratory elk routes to the Fall Creek Feed Ground to the North and the Scab Creek Elk Feed Ground to the South!
BLACKS LAKE BASE CAMP: This deluxe non-Wilderness Base Camp is located about 2 ½ miles from the Wilderness Boundary. The Base Camp is located about 1 ½ horse hours from the Trailhead and offers great hunting opportunities for Elk, Deer and Moose. This is as deluxe a pack in Base Camp as you will find with individual wall tents (2 hunters/tent) large cook tent and even offers a heated 'outhouse' tent and hot water shower tent.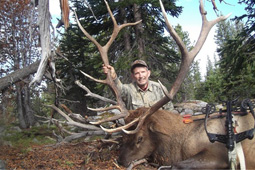 We are fortunate to be able to advertise that we will have Left Over 97 type 1 and type 6 licenses in July available through a lottery computer drawing. We are currently booked for our Bull Elk Hunt for 2020 so any openings will be cancellations and you should coordinate with me for that potential.
Area 97 historically had 5 active base camp Outfitters but now only has 2. I have been fortunate enough to buy out two operations while one is simply out of business.
The overall Elk herd continues to grow & the Game and Fish is issuing 250 type 1 Any Elk Licenses from Sept.20-Oct. 31 and an any elk General Season from Oct. 1-15.
If you are not lucky to draw that license in the January drawing, we will have Left Over 97 type 1 licenses in July that can be bought over the counter.
If you have been looking for that true Wilderness horseback Elk Hunting experience, the Bridger Wilderness is the place and the Bald Mountain Outfitters are the right people!! I still have very limited availability for Bull Elk in 2018 and I am actively booking for the 2019 and 2020 seasons.
The 2018 season will mark my 42nd year as a Wyoming Outfitter and an additional 8 years working for my Grandpa, Archie, at Half Moon Lake Lodge as a guide, camp-jack and packer. Our Elk Herd is currently in the best shape both quality and quantity that I have ever seen. Eliminating 3 additional Outfitters and seeing the resident hunter numbers diminish is simply producing more elk and better quality bulls!!
The Elk Hunting Weeks that I can offer include:
Sept. 10-17 Archery Hunting Week. This is the ideal high Wilderness Bugle season Hunt with lots of action for close charging bulls:
Sept. 19-26 and Sept. 28-Oct. 5 Rifle Bugle Week: These two weeks are the ideal high country rifle elk hunting weeks. Some years the Sept. 19 week will see more bugling while other years we will see more bugling during the Sept. 28th week.
Oct. 7-14 Rifle Hunting Week: This can be an extremely good hunt week & we normally hear bugling but the bulls can be a little reluctant to actually come to our calls. The chance of snow is increasing during this week & the elk tend to be forming into herds.
Oct. 25-Nov. 1 Rifle Elk Week: Most years we have cold weather & snow during this hunt week and we will normally see more overall Elk this week than during any of the other weeks of the season. This can also be a very successful hunt week.
Nov. 3-7 & Nov. 9-13 Rifle Cow Elk hunt weeks.
Some Specifics for your Hunt Planning:
6 Days of Hunting(8 day total with pack in and pack out): $6,200.00 plus 4% tax; (pack in and pack out days are not included in your hunt days)
Meat processing, taxidermy, travel to Pinedale, your hunting license and personals are NOT included in the hunt price
Meat and Trophy packing to the trailhead is included in the hunt price
If you plan to fly Commercially, I would recommend that you look into both Salt Lake (4 car hours from Pinedale) and/or from Jackson Hole (2 car hours from Pinedale);
If you are flying, I would recommend that you plan to rent a vehicle, preferably a 4 wheel drive;
We are still extremely fortunate to not be seeing any Wolves or Grizzlies in our Hunt area.
SPECIAL COW HUNT - November 1 - 20 Click here for more information.
Click here to view more photos.