Welcome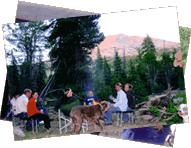 The Pollard family has been in the hunting, guiding, fishing and wilderness pack trip business in the Wind River Mountains of Wyoming since 1952! My grandfather, Archie, built the first lodge on Half Moon Lake in 1952. I have had my Wyoming Outfitters License (BG71) since 1976 and worked as a guide/packer for my Grandfather for 10 years prior to that point in time. I received my BS degree in Wildlife from Utah and Weber State Universities in 1972 and have put that knowledge to work in our Outfitting Business. Our business is truly a Family Operation and I am proud to note the following Awards from the Wyoming Outfitters & Guides Association:
My daughter, Nycole, won the Guide of the Year Award for Wyoming in 2006
My son, Travis, won the Guide of the Year Award for Wyoming in 2001!
Bald Mountain Outfitters has the expertise and knowledge to provide you with a well-organized, safe and exciting excursion. We provide our guests with the experienced staff who know our area, gentle and dependable horses and mules, comfortable, clean camps and quality gear. We work hard to make certain that your activity with us is a truly enjoyable experience.
Summer Activities
The Bridger Wilderness Area continues to offer some of the finest trout fishing, unexcelled scenic values, wildlife sighting and access to Wyoming's highest Peaks. We offer a full range of summer activities including: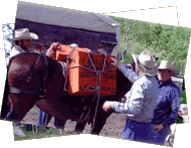 Our County, Sublette, is the home of the World and State Record Golden Trout and the State Record Rainbow, Cutthroat, Grayling, and Brook Trout (we also pursue Brown Trout, Lake Trout, Splake and other Hybrids). Our Fishing and Pack Trip opportunities are truly unsurpassed for the novice or expert and for the fly or spin fisherman. Our ideal location, near Elkhart Park, affords us the best access to the highest peaks in Wyoming. We tailor our Gear Spot Packs to the back-packer and mountain climber and hope that you will consider our services to support your Wilderness excursion.
Our dates are booking fast for the summer 2013 season and I hope that you can contact us soon.
Welcome
"I strongly recommend that you consider purchasing travel insurance from Travel Guard...ended up needing it. If you are further interested in this Travel Insurance, please review the Wyoming Outfitters and Guides Association site (www.wyoga.org) and follow the instructions on that site."
Check Out the Latest Hunts
We are extremely fortunate to be able to offer you Quality Hunting Excursions in both the Pinedale Area and in the Black Hills of Wyoming, near Hulett. We own two Hunting Base Camps and lease another:
Burnt Lake Base Camp: This is a drive in camp site located on the shore of Burnt Lake. Burnt Lake is the site of the State Record Rainbow Trout (26 pounds!) and is a gorgeous setting for a camp. We provide sleeping cabins and a cook house for your trip. We will be providing services from Burnt Lake for our Spring '13 Bear Hunts, Outfitter Guide School, misc. summer stays, trailhead for both our Blacks Lake and Horseshoe Lake Camps, Pronghorn hunting and late season hunting for Elk & Moose.
Blacks Lake Base Camp: This comfortable camp is located about 2 horse hours from Burnt Lake and is located on the boundary of the Bridger Wilderness. We utilize this camp for various Elk and Moose hunting throughout the season but it is mainly utilized for our late season hunting. Blacks Lake itself contains some extremely good Brook Trout…we have caught Brooks into the 3-4 pound class from the Lake! We provide wood side wall tents for our sleeping & cooking facilities.
Horseshoe Lake Base Camp: This high wilderness, comfortable camp is located about 4 horse hours from Burnt Lake. We utilize this camp for late season fishing trips and our early season Elk and Moose hunting. The Fall Creek runs right next to the camp-site and is full of very willing Brook Trout. Horseshoe Lake itself is located 400 yards from camp and can produce those very large Brook Trout. The Elk and Moose hunting from this camp is exceptional during the early seasons & prior to getting snowed out. "
While Elk is the major species that we hunt in the Pinedale Area, we can also provide quality hunts for Shiras Moose, Pronghorn, Mule Deer, Black Bear and Varmints. The Black Hills of Wyoming offer great hunting for Whitetail Deer, Mule Deer, Merriams Wild Turkey and Pronghorn. The Hulett hunts are all conducted on private lands. The Hunting Licenses in our area have never been easier to obtain but I do still recommend that you allow me to help with that process.
We will have available Bull and Cow Elk licenses in July and do still have a few openings for the 2013 season
"I have been forced to postpone my Mule Deer Hunting in the Pinedale area as our herd was devastated by the winter 2010. We are starting to see some very good bucks and the deer numbers are starting to recover well. I hope to be able to offer a hunt during the 2014 season. In addition, I am forced to postpone our Black Hills (Hulet, Wy.) hunts due to both the hard winter of 2010 and a disease situation during the summer of 2012. I hope to be able to offer this popular Whitetail/muley hunt in 2014."
We are actively booking our 2013 and 2014 hunting dates for Elk, Moose and Pronghorn. Our Elk & Moose herds are in extremely good shape and we will have some left over licenses for Elk in July."