Antler Hunting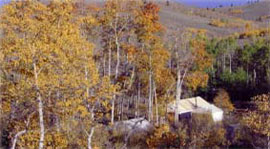 Antler Hunting has become a very large avocation of many people in our area and I am happy to be able to offer you the opportunity to join us in this enjoyable outdoor pursuit. We base our "hunts" from our Burnt Lake Drive-In Camp and run the excursions during the months of May and June. As you probably know, all members of the Deer family (Cervidae) shed their antlers anually. In our our area, this includes Mule and Whitetail Deer, Elk and Moose. Our game populations are in extremely good shape and our location 3 miles above one of the winter Elk Feed grounds makes our location ideal for finding those shed antlers each season.
Antlers are gathered each year for many reasons:
Income derived from selling the antlers at auction, to taxidermists, knife makers and collectors.
To be made into decorative lamps, chandeliers, and other items.
Simply to be displayed in your home and collected by you.
The Spring months are ideal months to visit our area. Fishing can be extremely good and can be combined with your antler hunting activities. Your stay will be based at our Burnt Lake Drive-In Camp. Your stay can be anything from 1 night to all week, according to your schedule. In addition to antler hunting, you can expect to participate in the following activities from our base camp:
Fishing
Photography - unsurpassed scenic and wildlife opportunities
Horseback riding - we utilize our horses to ride the country in search of discarded antler
Your antler hunting excursion includes the following: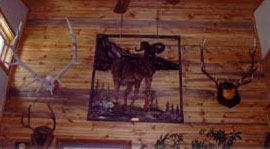 Food and lodging at our Burnt Lake Drive-In Camp - individual sleeping cabins, cook/dining cabin, hot water shower tent, outhouse facilities, Guide, cook, and Camp Help; Gentle Mountain Horses and Tack;
All other transportation as necessary, including 4x4 and ATV use.
The price is $350.00 per person per day + 3% use tax.
You would need to provide your own sleeping bag & personals, fishing license (if desired), camera and film, and transportation to Pinedale, Wyoming
Participation is limited and early booking of your dates can be accomplished with a 35% deposit. Families and groups are welcomed and encouraged. Available dates include May 1 - June 30.
Click here to view more photos.